For the past six months I've been working with six collaborators,
– Patsy Baudoin
– Andrew Campana
– Qianxun (Sally) Chen
– Aleksandra Małecka
– Piotr Marecki
– Erik Stayton
To translate e-lit, and for the most part computational literature works such as poetry generators, into English from other languages.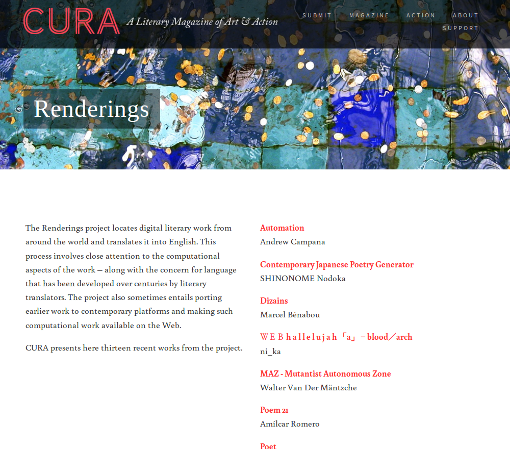 After a great deal of work that extends from searching for other-langauge pieces, through technical and computing development that includes porting, and also extends into the more usual issues assocaited with literary translation, the first phase of the Renderings project (13 works translated from 6 languages) has just been published in Fordham University's literary journal, Cura.
Please take a look and spread the word. Those of us rooted in English do not have much opportunity to experience the world-wide computational work with langague that is happening. Our project is an attempt to rectify that.