In this episode of Poetry Corner with Guido, Guido the python shares a Gertrude Stein poem titled Sacred Emily.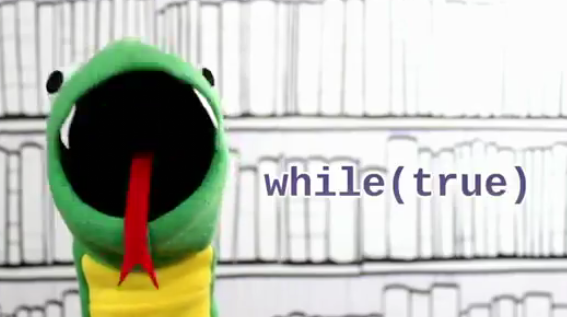 Jared Nielsen, thanks to his schooling in Modern and Contemporary American Poetry, his ability as a programmer, and his recent creation of a puppet, has developed an amazing conflation of Gertrude Stein, the Python programming language, and the Wonder Showzen episode "Patience."
Nielsen has been recreating famous American poems in Python or so that they are about Python, as in "The Red Wheelbarrow" and "Song of Myself."
His project parallels that of Páll Thayer along two dimensions: Thayer, in his series Microcodes, presents short programs in Perl (not Python) that often recreate famous artworks (not poems), for instance Vito Acconci's Seedbed and Jasper Johns's Flag.
We must admit, however, that Thayer does not employ a puppet named after Larry Wall.