What are we waiting for, assembled in the forum?

A technical report is to arrive today.
No need to worry about what will become of you without a technical report! The report, the fourth "Trope Report" in the Trope Tank series that started this year, is here: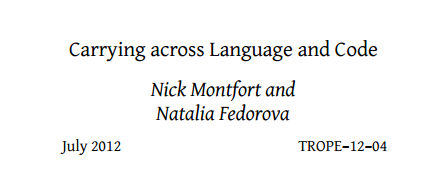 In "Carrying across Language and Code," Natalia and I discuss issues of translation and computational writing. With reference to electronic literature translation projects in which we have been involved as translators or as authors of the source work, we argue that the process of translation can expose how language and computation interrelate in electronic literature. Various small poetry generators, a cybertext poem, and two works of interactive fiction are discussed in this report.
Share and enjoy…