Radical Books of 2011, 3/10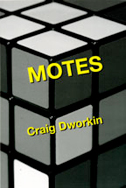 Motes, Craig Dworkin, Roof Books, 9781931824446
Short titles (or none) followed by hardly longer texts – the form is due to Bob Grenier's A Day at the Beach and his materially innovative Sentences. Dworkin does something new, showing this is no one-trick pony and has use beyond a single poet. Zak Smith was the first to do a picture for every page of a novel (Gravity's Rainbow) only to be followed by Matt Kish's 2011 demonstration that the conceit had legs. Similarly, Dworkin innovates in Motes by being the second to try his hand at an unusual way of writing, and to show that it can amplify his different voice:
>BRICK
>
>Buick
Or:
>MARGIN
>
>explanation of butter on the counter overnight
While playing on Grenier's everyday experiences, Dworkin's motes take another turn, entering language and ordinary experience more deeply at times, as in the oddly compelling:
>FOR THE WIDER GOOD
>
>I am tiger woods
>
>I am tiger woods
Alas.