Thanks to the hard work of the editorial collective, Laura Borràs, Talan Memmott, Rita Raley, and Brian Kim Stefans, and to contributions of more than 70 (often collaborating) authors, we now have an incredible new anthology: volume 2 of the Electronic Literature Collection, which offers 60 new reading experiences for the networked computer.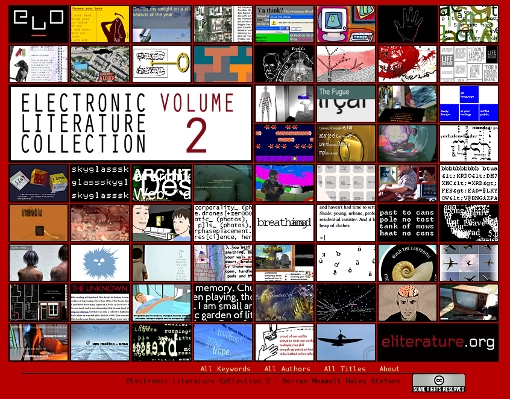 (Here's the ELO's announcement about the new volume.)
To make the first volume of the Collection possible, my fellow editors and I limited ourselves to the sort of e-lit projects we could easily publish on CD-ROM and on the Web. The formal range of the ELC has expanded in the new collection, which documents several projects that wouldn't, themselves, fit on disc. The range of languages represented has also widened, and the collective has brought it own perspectives and concepts to offer a different sort of selection than is seen in the first volume.
I'm certainly pleased to have some of my work included: Book and Volume and the first program in the ppg256 series. And I'm glad that Laura, Talan, Rita, and Brian worked so carefully and at such length to gather and edit this diversity of material. They've made this project a success for the ELO and for e-lit readers. And finally, as a reader, I'm also really looking forward to diving into the pages and windows of this collection.