Well Played 1.0: Video Game, Value and Meaning is now out from ETC Press. It's available in print from Lulu.com and has been offered to the creative commons and can be downloaded as a PDF or read on the Web.
My contribution is "Portal of Ivory, Passage of Horn," an article comparing two of the top games of 2007. Thanks to everyone who discussed this comparison with me at Grand Text Auto when I first blogged about this pair of games. My article is, I think, both more extensive and more focused than what I originally wrote, and I hope it helps to advance the discussion of video games.
Editor Drew Davidson writes of the book: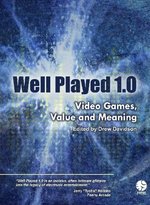 What makes a game good? or bad? or better?

Video games can be "well played" in two senses. On the one hand, well played is to games as well read is to books. On the other hand, well played as in well done.

This book is full of in-depth close readings of video games that parse out the various meanings to be found in the experience of playing a game. 22 contributors (developers, scholars, reviewers and bloggers) look at video games through both senses of "well played."

The goal is to help develop and define a literacy of games as well as a sense of their value as an experience. Video games are a complex medium that merits careful interpretation and insightful analysis.
Well Played Table of Contents