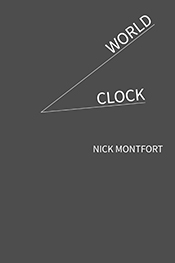 My novel World Clock, generated by 165 lines of Python code that I wrote in a few hours on November 27, 2013, is now available in print.
>_World Clock_ tells of 1440 incidents that take place around the world at each minute of a day. The novel was inspired by Stanislaw Lem's "One Human Minute" and Harry Mathews's "The Chronogram for 1998." It celebrates the industrial concept of time and certain types of vigorous banality which are shared by all people throughout the world.
The code has been online, along with a PDF of the book's text, since late November. The Python program that generated this novel is available under a free software license. Anyone may make whatever use of it; generate your own novel with the unchanged code, if you like, or modify it to produce something different, for instance.
The book _World Clock_ is for sale to local and remote customers from my local independent bookstore, the Harvard Book Store. (No direct relationship to the university of the same name; they both happen to be located in Harvard Square.) The book is printed on the Espresso Book Machine in the store – to the amazement of onlookers. The apparatus has been dubbed "Paige M. Gutenborg."
The 239-page paperback can be purchased for only $14.40, which is the low, low price of only one cent per minute.