Congratulations to Jimmy Maher on his just-published book, The Future Was Here: The Commodore Amiga. As you might expect, Amazon has a page on it; so does Powell's Books, for instance.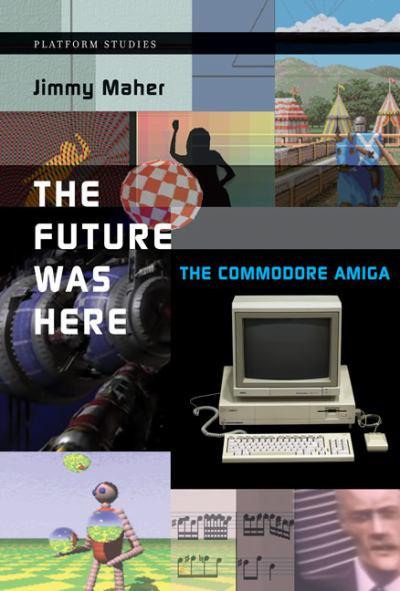 This MIT Press title is the third book in the Platform Studies series. Jimmy Maher has done an excellent job of detailing the nuts and bolts of the first multimedia computer that was available to consumers, and connecting the lowest levels of this platform's function to cultural questions, types of software produced, and the place of this system in history. The book considers gaming uses (which many used to brand the Amiga as nothing but a toy) but also media production applications and even, in one chapter, the famous Boing Ball demo.
The Platform Studies series (which also has a page at The MIT Press) is edited by Ian Bogost and yours truly, Nick Montfort, and now has three titles, one about an early videogame console, one about a console still in the current generation and on the market, and this latest title about an influential home computer, the Amiga. We have a collaboration between two digital media scholars and practitioners of computational media; a collaboration between an English professor and a computer science professor; and this latest very well-researched and well-written contribution from an independent scholar who has, for a while, been avidly blogging about many aspects of the history of gaming and creative computing.
Jimmy Maher, not content with his book-writing and voracious, loquacious blogging, has created a website for The Future is Here which is worth checking out. If you were an Amiga owner or are otherwise an Amiga fan, there's no need to say that you should run, not walk, to obtain and read this book. But it will be of broader interest to all of those concerned with the multimedia capabilities of the computer. Really, even if you had an Atari ST – do give it a read, as it explains a great deal about the relationship between computer technology and creativity, exploring issues relevant to the mid-to-late 1980s and also on up through today.