Like my collaborator Noah Wardrip-Fruin, I have come to Brazil for the winter. But not to a nice warm part of Brazil — I'm in Passo Fundo, in the far South, at the 14th Jornada Nacional de Literatura. Here, it has been cold outside, but there has been great excitement about writing and literary art.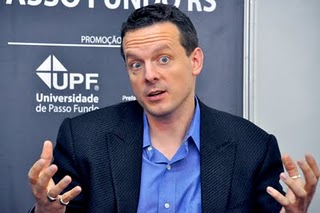 I have been correctly identified as a space man as I've shown and discussed interactive fiction, poetry generation, and other forms of electronic literature.
I gave a longer talk this morning about these topics, which was translated into Brazilian Portuguese as I spoke. Tomorrow, I will speak on a panel in the main tent to about 5000 people about certain types of "convergence" in writing and literature. The type I will address is a convergence between authors – collaboration.