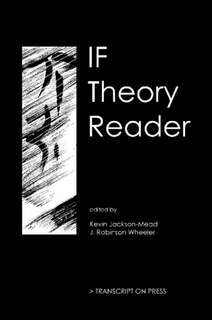 Almost a decade after the project began, the IF Theory Reader is finally here, thanks to the hard work of editors Kevin Jackson-Mead and J. Robinson Wheeler. The book has been published by Transcript On Press and has made it out in time for PAX-East, where Kevin's group The People's Republic of Interactive Fiction will be hosting a hospitality suite.
There are 438 pages in this book, which can be downloaded as a PDF for free or purchased as a paperback for a mere $13.26.
My own contribution, "Toward a Theory of Interactive Fiction," has a first page which (except for the title of the article) is entirely occupied by a footnote. Perhaps ominously. I did, however, revise the article for the N+1th time, trying to make it a bit more accessible. I began writing this particular piece back when this book project was first being formulated, and am very, very glad to have it officially published after all these years.
The compendium of writing about interactive fiction that we finally have here includes 26 articles – the same number, I should mention, as there are letters of the alphabet:
Crimes Against Mimesis – Roger S. G. Sorolla
Toward a Theory of Interactive Fiction – Nick Montfort
Characterizing, If Not Defining, Interactive Fiction – Andrew Plotkin
not that you may remember time: Interactive Fiction, Stream-of-
Consciousness Writing, and Free Will – Mark Silcox
2 Brief Dada Angels – Ryan Stevens, writing as Rybread Celsius
Object Relations – Graham Nelson
IF as Argument – Duncan Stevens
The Success of Genre in Interactive Fiction – Neil Yorke-Smith
Parser at the Threshold: Lovecraftian Horror in Interactive Fiction – Michael Gentry
Distinguishing Between Game Design and Analysis: One View – Gareth Rees
Natural Language, Semantic Analysis, and Interactive Fiction – Graham Nelson
Afterword: Five Years Later – Graham Nelson
Challenges of a Broad Geography – Emily Short
Thinking Into the Box: On the Use and Deployment of Puzzles – Jon Ingold
PC Personality and Motivations – Duncan Stevens
Landscape and Character in IF – Paul O'Brian
Hint Development for IF – Lucian Smith
Descriptions Constructed – Stephen Granade
Mapping the Tale: Scene Description in IF – J. Robinson Wheeler
Repetition of Text in Interactive Fiction – Jason Dyer
NPC Dialogue Writing – Robb Sherwin
NPC Conversation Systems – Emily Short
10 Years of IF: 1994–2004 – Duncan Stevens
The Evolution of Short Works: From Sprawling Cave Crawls to Tiny Experiments – Stephen Granade
History of Italian IF – Francesco Cordella
Racontons une histoire ensemble: History and Characteristics of French IF – Hugo Labrande
Again, congratulations to Kevin and Rob, and thanks to my fellow authors. I've read many of these articles before; I'm looking forward to sitting down and reading everything, previously seen and unseen, in this excellent codex.