It's tough to write about the ideas that didn't work out. Sometimes the negative results actually aren't very interesting, and it's better not to discuss them. In other cases, it's impolite to point out other people's roles – to blame them – and impossible to discuss the failure otherwise. But when a failure is not too big of a deal, possibly instructive to bring up, and as least as much my fault as anyone else's, that rare opportunity to post about it presents itself.
In 2005, those of us blogging at Grand Text Auto had the idea of starting a "label." We wanted something that would riff on our blog's name and serve to showcase larger-scale projects that we did. The idea was that our creative projects would benefit from being associated with each other, just as our blog writing was more lively and had wider reach thanks to the shared context of Grand Text Auto.
After going through our usual best practices process of name development – perhaps, based on experiences like these, I'll one day start a naming firm – we chose to call the label [auto mata]. With the square brackets and everything, if you want to really give a shout-out, although "Auto Mata" could work if that's what fits your house style.
I offered to design the logotype. Now, I'm much less likely to start a career in graphic design, and certainly couldn't drive that auto very far if I did, but I do like to indulge my dilettantish design interests when the opportunity presents itself. This is what I came up with: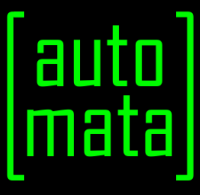 Admittedly, it doesn't exactly slap one in the face.
I don't think my understated logo was the real problem with [auto mata], though. First Michael Mateas and Andrew Stern's Façade (July 2005) and then my own Book and Volume (November 2005) were released "under" (perhaps "with" is a better preposition) this label. And that was it. No other "extraordinary e-lit, digital art, and computer games" appeared as [auto mata] releases, which was one big problem. A list of two things isn't doing that much helpful association or offering people very much to browse. I think if we had kept adding a piece to the [auto mata] catalog every few months, we'd have accumulated a very interesting collection that people would be looking at. We might even encourage the crossing of boundaries between (the stereotypes of) literary work, visual art, and computer games that Grand Text Auto was all about. But we weren't all regularly doing larger-scale projects that were downloadable. [auto mata] couldn't really, in any straightforward way, "release" an immense, functional Atari VCS joystick.
Another problem, though, is that [auto mata] was just a list on a Web page. We didn't build much buzz around [auto mata] itself, or work to promote the label per se as opposed to the two pieces that were released under it. Perhaps this work would have done itself to some extent as our list of publications grew and our offerings drew in people from different communities. But, unfortunately, the work wasn't done.
Michael, Andrew, and I often mentioned [auto mata] in promoting our pieces. The site is still up. But now it's 2011, and it's worth noting that both Façade and Book and Volume have been published again in the fine context of the Electronic Literature Collection, volume 2. Although some "previous publication" information is included for each piece in the Collection, Michael, Andrew, and I all neglected to tell the editors that these two pieces are [auto mata] releases, so that information (provided within the pieces) doesn't appear on the introduction pages where other bibliographic information is available.
Ah, well. I don't regret the discussion that led to our developing [auto mata]; nor do I regret the not particularly onerous efforts that we took to get this label launched. In a different situation, such a label might have served not just to catalog work, but as an incentive or rallying point for the Grand Text Auto bloggers in creating work that could be proudly presented alongside other pieces. Perhaps a similar label could still do that for a different group of people.