Last night I projected words to accompany music at a local lounge. This practice does not seem have an established name – does it? Please let me know if you're aware of the conventional term. I have heard the phrase "text jockey" used. I've also come up with some other terms that don't seem to fit perfectly. In a sense, this is VJing, but it's also a practice that is compatible with VJing, since words can be projected in a subtitle-like fashion on moving images.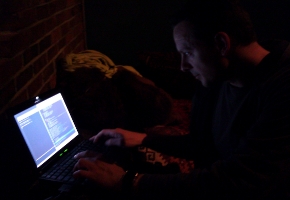 Using a small bit of Python code and pyglet, I put a number of texts up a word at a time in very plain and uniform typography. Each successive word appeared centered on the same point as the last in a rapid, serial, and visual manner. Sometimes I showed several texts in juxtaposition, sometimes just one. I thought the combination of the Advanced Dungeons & Dragons Monster Manual and the text of Beckett's Rockaby was particularly nice. The Unabomber manifesto and the Timecube website were utilized, as were Moby Dick, a Roberto Bolaño story, some altered versions of Little Red Riding Hood, a poem by Harry Mathews, and a few pieces I put together that drew randomly from word sets to confuse gender stereotypes and our notions of otherness. One of the people who came thanked me and said that he wasn't expecting to spend the evening reading from great books, but that it was pretty cool.
My thanks to DJ Flack & Wayne and Wax, who very kindly invited me to join them.