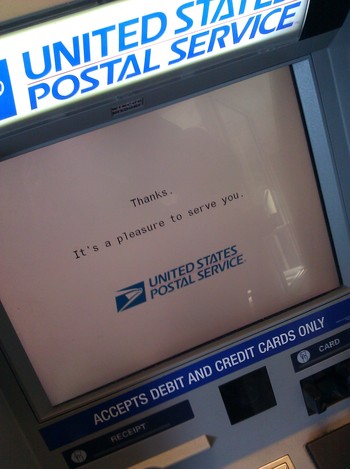 I was startled to discover these two things at the post office today, the immediate implications of this message:
The US Postal Service has developed a kiosk/robot capable of experiencing pleasure.
Said robot is stimulated pleasurably by selling me a stamp.
I wanted to somehow let the robot know that I also appreciated the necessary service it performed. I thought about getting one of these Priority Mail stickers, writing on it "It was a pleasure, also, to be served by you, robot!," and then slapping it on the side of the Automatic Postal Center. But the robot wouldn't be able to read that message, would it? Maybe I could hold up a note with a similar message to the camera that is used to surveil patrons of the APC. But then I'd have to wait in line again, and I doubt the robot is capable of handwritten character recognition – it wouldn't have asked me to type in the zip code if it was.
I can only hope that this faithful servant is among the many robot readers of my blog.
Also, I feed certain there must be some applications outside of the mail system for pleasure-experiencing robots, although none come to mind right away. Any ideas?
(Obligatory self-reference: An Automated Postal Center appears in my 2005 interactive fiction Book and Volume.)