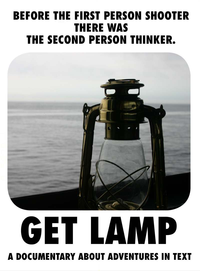 You may have noticed a slew of posts on the Get Lamp blog, Taking Inventory, or seen the writeups on Boing Boing, PC Gamer, CNET, or other sites. But I'll say it here too: Jason Scott's documentary about text adventures, years in the making, is completed, has been pressed and assembled, and is now for sale and shipping. The movie is Get Lamp, and there is a trailer for it online.
Tipped off by my book Twisty Little Passages: An Approach to Interactive Fiction, Jason Scott got in touch with me way back in 2005, before he had started filming interviews for Get Lamp. He came to Philadelphia, where I was working on my Ph.D. at Penn. I ended up doing one of several interviews with him there and bringing him to Autostart, a digital literature festival I helped organize at the Kelly Writers House, where he interviewed a few of the participants – just a handful of the many dozens of interviews Scott did for the documentary. I've gotten to see the documentary develop. I listened to audio files of the interviews, discussed the project on ifMUD, and got to see screenings of early versions with audiences at the Penny Arcade Expo East and @party.
Get Lamp is an essential film for the interactive fiction enthusiast – as I think more or less all of us know already. It's also going to be an important film for students of electronic literature or computing history. There are some good short YouTube videos explaining interactive fiction, such as Exploring Interactive Fiction, which I did with Talieh Rohani, and Jason McIntosh's The Gameshelf #8: Modern Interactive Fiction. These are great for people whose interest has been piqued already and who want to know a bit more about IF history and how to play. But it's really difficult to get contemporary, non-IF playing students to understand why they should give interactive fiction a chance. Those who put a few short games on a syllabus often return to classrooms of perplexed or disgruntled people who have made no progress. Screening at least the "non-interactive" cut of Get Lamp will be time well spent. It will provide ideas for discussion and will give students permission to appreciate interactive fiction in several new ways, allowing them to better engage with assigned games.
It's people and their stories that are always the focus of a documentary, and that's certainly the case with Get Lamp, which assembles quips, and the occasional longer argument or rant, from players and authors of different eras. The statements from people in the film give a great sense of the many ways in which interactive fiction was and is important. This is something you don't get in Twisty Little Passages, because my method wasn't to interview people about their experiences; I focused more on the printed and digital record, on describing how interactive fiction works, and on scholarly questions about the status and history of the form, for instance, as it relates to the literary riddle. While people are central to the documentary, Scott certainly doesn't shy away from archival materials such as printouts, maps, and notes or from original early packages in the documentary, though. He uses those worth-a-thousand-words pictures to give a sense of the contexts in which interactive fiction has been played from the early days of Adventure through today. Which I guess means, as everyone's favorite retail site says, "Buy these items together!" (Actually, though, you should go to the Get Lamp order page to buy the documentary.)
Scott has done a great deal to provide coverage of today's "modern era" of interactive fiction development while also covering its origins in Adventure, the ties that game has to caving, and the commercial heyday from Adventure International through Infocom. The history of the IF Comp is explained by current organizer Stephen Granade and others, and the emergence of short-form IF (and its relationship to the comp) is discussed as well. But the documentary's perspective on interactive fiction clearly gazes longingly over the "golden age" of commercial IF, when Infocom was king. There's the sense – which several people share – that interactive fiction has managed to continue in some ways from that time, which was its finest hour.
That's not the perspective some contemporary IF authors have, though. For some, Infocom is a happy but dim memory rather than the holy city of Byzantium. Others never even played an Infocom game before playing modern IF and writing their own IF. And of course, games are not just shorter now; they are written in a wider variety of styles on a wider variety of topics. It won't be tough for enthusiasts to find other favorite aspects of IF which didn't manage to fit into this full and rich documentary: the relationship to MUDs or the graphical adventure, commercial games in English outside the US, or global communities working on IF in recent years. Which is just to note that while Get Lamp relates an important and untold story, it's not the _only_ story of interactive fiction. It's the kind of movie that leaves me listening to my fellow IF authors and aficionados and being constantly surprised about how much I share certain people's perspectives and how different, at other times, my view of IF is. That's not just informative; it's also thought-provoking.
Yes, despite the breadth and unusual textures of the topic, the film goes beyond being a great introduction to IF and the people who play and write it. There are many surprising discussions outside the main line of IF history. The academic study of IF is discussed by Mary Ann Buckles, whose 1985 dissertation on Adventure is the first study of IF and probably the first long example of work in game studies. John Romero explains the debt that computer games in general owe to text adventures. Robert Pinsky, who has served as poet laureate in addition to writing the IF Mindwheel, discusses puzzles and the pleasures of literature. Other less-than-usual suspects chime in, including fellow academics and collaborators of mine Jeremy Douglass, Ian Bogost, and Stuart Moulthrop.
One of my favorite points in the movie is when Brian Moriarty says empathetically of the Infocom catalog, "It was for literate people – it was for people who like to read!" Get Lamp is also for people who like to read, explore, and see from different perspectives. It's not only for those who have already discovered interactive fiction, but it will delight most those who are enthusiastic about computing and what the computer can do with storytelling, language, and the modeling of words.
Jason Scott is now preparing for a "Jet Lamp" tour in September, in which he'll show the film around the country. Perhaps you'll get to catch it at a theater near you.