I just put a new poetry generator up. This one was released in inchoate form at @party, the Boston area demoparty. I've finished it, now, writing an HTML page of 2kb that employs JavaScript to generate nonsense poems that *I*, at least, find rather amusing.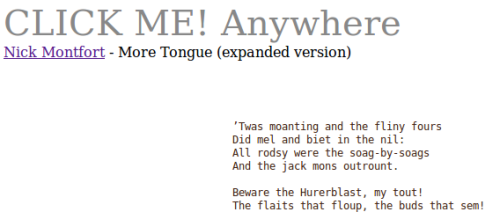 'More Tongue' is available in an expanded version (functioning the same but with uncompressed code and more meaningful variable and function names) which I suggest for just about everyone, since I encourage everyone to study and modify the code, for fun, for art, and so on. If you want to see the 2k version working, that's there too.
I could have compacted this below 2kb, although I rather doubt I'd have gotten it to 1kb without some major shift in the way the program works. I can see a few inefficiencies in how I put the program together, and while I did turn to some compression resources I didn't use the famed Minify. I was happy, though, with what the 2kb page does.
I'll be reading from this in about an hour at Babycastles's WordHack event, here in Manhattan, during the open mic. Hope to see some of you there.