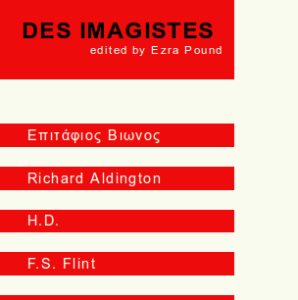 I'm glad to share the first Web edition of Des Imagistes, which is now back on the Web.
I assigned a class to collaborate on an editorial project back in 2008, one intended to provide practical experience with the Web and literary editing while also resulting in a useful contribution. I handed them a copy of the first US edition of Des Imagistes, the first Imagist anthology, edited by Ezra Pound and published in 1914.
Jason Begy, Audubon Dougherty, Madeleine Clare Elish, Florence Gallez, Madeline Flourish Klink, Hillary Kolos, Michelle Moon Lee, Elliot Pinkus, Nick Seaver, and Sheila Murphy Seles, the Fall 2008 workshop class, did a great job. The project was prompted, and indeed assigned, by me, but it's the work of that group, not my work. The class put a great deal of editorial care into the project and also attended to principles of flexible, appropriate Web design. The cento they assembled and used for an alternate table of contents made for a nice main page, inviting attention to the text rather than to some sort of illustration. I'm not saying it would have been exactly my approach, but what they did is explained clearly and works well.
I told the class that the licensing of their project was up to them. They chose a CC BY-NC-SA license, more restrictive than I would have selected, given that the material was in the public domain to begin with, but a reasoned choice. They were similarly asked to decide about the hosting of the work. They just had to present what they'd done in class, answer questions about it, and let me look at and interact with it. While I would be glad to place a copy on my site, nickm.com, it was up to them as to whether they would take me up on the offer. They placed their work online on its own domain, which they acquired and for which they set up hosting.
After announcing this edition, readers, scholars, and teachers of Imagist poetry commented and thanked the class for it work. But as I bemoaned last October, Des Imagistes was no longer online a few years later. I asked around for files, but asking former students to submit an assignent six years later turns out to be a poor part of a preservation strategy.
Now, working with Erik Stayton (who a research assistant in the Trope Tank and is in the masters in CMS 2015 class), I've recovered the site from the Internet Archive. The pages were downloaded manually, in adherence to the robots.txt file on archive.org, the Internet Archive's additions to the pages were removed, and something very close to the original site was assembled and uploaded.
Some lessons, I suppose, are that it's not particularly the case that a group of students doing a groundbreaking project will manage to keep their work online. As much as I like reciprocal and equitable ways of working together, the non-hierarchical nature of this project probably didn't help when it came to keeping it available; no one was officially in charge, accepting credit and blame. Except, of course, that I should have been in charge of keeping this around after it was done and after that course was complete. I should have asked for the files and (while obeying the license terms) put the project on my site – and for that matter, other places online.
Would you like to have a copy of the Des Imagistes site for your personal use or to place online somewhere, non-commerically? Here's a zipfile of the whole site; you will also want to get the larger PDF of the book, which should be placed in the des_imagistes directory.