Composing:
Harry Mathews'
Words & Worlds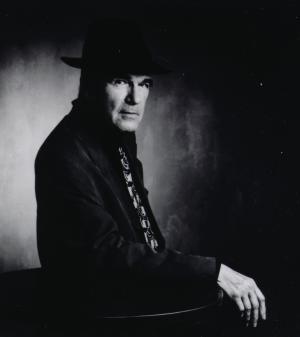 Harry Mathews. Photo © Sigrid Estrada.
Kamin Gallery
Van Pelt-Dietrich Library
University of Pennsylvania
Philadelphia, Pennsylvania, USA
Curated by Nick Montfort
April 5 – August 31, 2004
"Maybe writing is never anything else but translation — ultimately, a translation which cannot be identified."
"I've always been as much inspired by poets as by fiction writers, and in fact my reading Roussel enabled me to write prose as if it were poetry."
Harry Mathews, born 1930, is an American writer who divides his time between the United States and France. He has composed an extraordinary range of literature: five novels (The Conversions, Tlooth, The Sinking of the Odradek Stadium, Cigarettes, and The Journalist), several collections of poetry, shorter fiction (collected in The Human Country, Dalkey Archive Press, 2001) and eclectic nonfiction (collected in The Case of the Persevering Maltese, Dalkey Archive Press, 2002). He has done many translations from French, has written original literary works in French, and has written about and in conjunction with art and music. Mathews is also the creator of several works that defy simple classification. He is now completing a book called My Life in CIA.
"Americans are usually very upset when you start talking about literature as words being organized the way you can organize musical notes without reference to anything outside them. ... but ultimately I think only Americans could understand what I'm doing."
"What matters in writing, as in music, is what's going on between the words (and between the notes); the movement is what matters, rather than whatever is being said."
The focus of the exhibit Composing is on how one of today's most innovative writers actually puts together his literary works. Two of the most hackneyed questions that one can pose to a writer are "Where do you get your ideas?" and "How do you write?" Mathews' drafts, notes, and letters provide fascinating material evidence of his writing techniques — some of which are ordinary, some of which are extremely unorthodox. The University of Pennsylvania's collection, which includes the Locus Solus manuscripts as well as all of Mathews' typescripts and correspondence through the mid-1990s, helps to illuminate a variety of formal and informal techniques that Mathews has used — and still is using — to explore new literary territory.
"I think the aim is to write for pleasure even if you're writing about concentration camps and the black death; and the pleasure one imagines is the reader's pleasure."
"All books come from other books, especially when they're drawn from real life."
I hope you had a chance to visit this exhibit of Harry Mathews' papers, Composing. On May 6, 2004, Harry came to Penn and did a wonderful reading at the Kamin Gallery, on the first floor of the Van Pelt-Dietrich Library, where the exhibit was located. (The text of my introduction of Harry is online.) The exhibit was installed on April 5 and remained open through the summer. It was free and open to the public. A small booklet that serves as a catalog was made available free to visitors, and the text of the booklet is now online at the Library's site for the exhibit.

—Nick Montfort, nickm.com
The exhibit was made possible thanks to the generosity of Dorothy Englert and the Kamin family. I also wish to particularly thank Michael Ryan, director of special collections, for asking me to curate the exhibit and for supporting and overseeing it; Andrea Gottschalk for designing the exhibit; and Sam D'Iorio, who processed and organized materials from the collection and provided very valuable advice about what items should be included. The quotations from Harry Mathews on this page are from interviews with Lynne Tillman, Bomb, Winter 1988/89; with Michael Friedman, Shiny, Spring 1986; with Meyer Raphael Rubinstein, Silo, 1978; with John Ashbery, Review of Contemporary Fiction, Fall 1987; and the final two are from an interview with John Ash, Review of Contemporary Fiction, Fall 1987.