IMPLEMENTATION
Nick Montfort and Scott Rettberg
Updated 2006-06-23 · 1611 Photos
Photos by Location or by Date · Project Description
The Implemenation Book is now available!
270 full-color pages, published in 2012.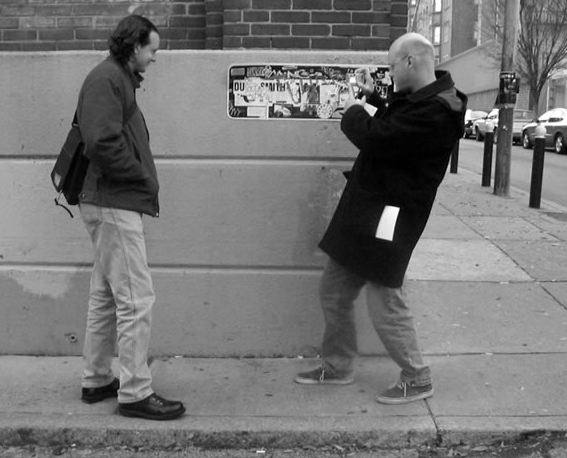 Philadelphia
Implementation is a novel about psychological warfare, American imperialism, sex, terror, identity, and the idea of place, a project that borrows from the traditions of net.art, mail art, sticker art, conceptual art, situationist theater, serial fiction, and guerilla viral marketing. The text was written collaboratively by Nick Montfort and Scott Rettberg with some contributions from others. Its initial incarnation was as a serial novel printed on sheets of stickers that were distributed in monthly installments. [Full project description...]
Installment:
#1 (Letter) (A4), #2 (Letter) (A4), #3 (Letter) (A4), #4 (Letter) (A4),
#5 (Letter) (A4). #6 (Letter) (A4). #7 (Letter) (A4). #8 (Letter) (A4).
Participate:
Sheets are set up for printing on 2-across, 5-down label paper. We can now accept photos of your sticker placements (close-up and medium shots) in whatever resolution your camera uses. Please mention the location in the subject line, and email photos (up to 10MB per message) to —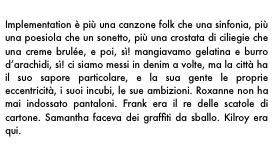 News: Provflux Reading. (May 12, 2005) At Provflux, we will also read from and discuss Implementation on Sunday, May 29th, from 1:45-2:30 at The Steelyard, in Providence, of course.
News: Implementation at Provflux. (May 4, 2005) At Provflux 2005 in Providence, Rhode Island, Implementation will be featured both as an intervention (live event) and as an exhibition. Implementation's second gallery exhibition will take the form of mounted photos from the project, a DVD of distance shots, and take-home sticker sheets on display at CUBE2 Gallery in downtown Providence May 19th-June 4th. Montfort and Rettberg will be in Providence May 27th-29th for the festival itself, aiming to distribute, place, and document the entire novel in one weekend in one city. Bring your digital camera and camping gear if you want to join the authors. Implementation joins about 50 other public interventions, games, urban explorations, lost space recoveries, and tech mapping projects for this fluxist/situationist/public art happening.
News: First photos from Italy. (April 8, 2005) Of the Italian translation of Implementation. From Pisa: Ponte di Mezzo and the Tower of Pisa.
News: Italian translation -- Installment 1 is out. (March 28, 2005) We are delighted to announce that Riccardo Boglione, a scholar of 20th century Italian literature and graduate student in the Department of Romance Languages at the University of Pennsylvania, has translated the first installment of Implementation into Italian. His translation of installment 1 is now available for download and printout onto US Letter or A4 label paper. See also the new Italian Implementation home page. Riccardo plans to continue translating the novel, releasing one installment a month.
News: More photos from Iowa, etc. (March 20, 2005) Share and enjoy.
News: 78 new Paris photos (February 25, 2005) L'implementation.
News: More photos (February 7, 2005) This update includes several more New York photos. See the previous batch for some from the opening of the Slought Foundation exhibit.
News: Event, exhibit at the Slought Foundation
(December 12, 2004) On December 28 an exhibit of Implementation will open at the Slought Foundation in Philadelphia (4017 Walnut St.). An event that evening at 8pm, free and open to the public, will include a public conversation with Johanna Drucker, Christian Bök, Jean-Michel Rabaté, Nick Montfort, and Scott Rettberg. The exhibit, which will be in the "storefront" space of the gallery, will be up throughout January 2005.
News: Rettberg's reading, slideshow
(November 26, 2004) Implementation is revealed to Web readers in its situated, narrative glory in the slideshow Scott Rettberg has assembled. There is also video of his recent reading of Implementation at Digital og Sosial in Norway.
News: Implementation is complete!
(November 2, 2004) All eight installments of the novel are now available to the world. However, access to Implementation within the United States is restricted. If you are eligible to vote, you may only download the final installment after voting.
Our policy is enforced using the honor system, but we are not kidding. Go vote first. While the text of the novel is complete, the project continues. We will continue to post photographs that people send us. In fact, we have 53 new photos (mostly from New York City) right now. An exhibit in Philadelphia and and an appearance in a literary magazine are upcoming; keep an eye out for news here. Many thanks to all of the participants who made the project possible.
News: More than 1000 photos!
(October 25, 2004) Number 1000 happens to include a very small, but genuine, image of John Kerry addressing a crowd in Philadelphia.
News: Rettberg on stickers in the New York Times
(September 25, 2004) "Download, Peel and Stick, and All the World's a Gallery," an article about sticker art by Samantha Storey in the New York Times, (26 September 2004, but online now) quotes an Implementation coauthor: Scott Rettberg, a scholar in new media, attributes the resurgence of stickers to low-cost inkjet printers and "the ubiquity of the global network." "Cheap printers give artists the ability to mass-produce work intended for public consumption," he said, "and stickers are easier to place than traditional graffiti." Storey's story mentions several interesting aspects of sticker art. For instance, she notes that as stickers "make their way around the globe, from one e-mail in-box to the next, one cultural context to another, their meaning tends to morph." The story links to Wooster Collective, Visual Narcotics, Street Stickers, and the famous OBEY GIANT campaign, sticker art sites worth visiting.
Older Notices...
Installment 7 online now
(September 20, 2004) Both letter-sized and A4 PDFs. Also, Montfort did a loudspeaker-supported reading from installment 7 in the William Carlos Williams-engraved garden of the Kelly Writers House on September 6, corrupting the youth of Penn by handing out all the sheets of installments 1-6. And, new photos from NYC are up.
Implementation Co-Author Questioned by Police
(July 18, 2004) On Saturday, Scott Rettberg was stopped and questioned by three police officers at 30th Street Station after he had arrived in Philadelphia and met co-author Nick Montfort to undertake further work on the project with him. One police officer said his taking a photograph of "a bomb-proof trash can" was suspicious. Rettberg offered that he "does internet art." The officer asked if Rettberg would consider the trash can an "unusual subject." Rettberg said he often takes pictures of "details of cities." As Montfort stood at the indicated distance and another officer ran a warrant check on Rettberg, the first officer explained that the can's bomb-proof nature was what caused it to depart from the usual architectural idiom of the station. Rettberg said that he understood if this was a "homeland security" issue and that he did not mean to "freak anyone out." After the warrant check was completed, the officer who ran it wished Rettberg a good visit to Philadelphia.
[Photo 1: Police (center) re-enter 30th Street Station after questioning Rettberg.]
Participant Encounters Police
(April 2, 2004) Near the end of March, a participant reported this occurrence as he attempted to share Implementation with the public:
"I was over at a [Chicago] liquor store (Arminetti's) and put a sticker on a trailer in the parking lot - 20 seconds later a cop car pulls up - the guys take me into the store to talk to the MGR and I said I'd take the sticker off. ... It just happened to me a WEED related sticker ... about sinsemilla - the cop even said 'that's the super strong sticky stuff, right?' while glaring at me."
[Photo 1: Police confront an Implementation participant.]
[Photo 2: A police officer discusses the relative merits of literary publication and private property.]
First Reading
(February 14, 2004) The first public reading of Implementation took place at 4pm today at the Kelly Writers House in Philadelphia. [Photos from the "Joint Work" reading...]
nickm.com > implementation: Photos by Location or by Date